Limited quantity 4 oz. DDF grown garlic powder and premium pink salt
$

7.00
Coming soon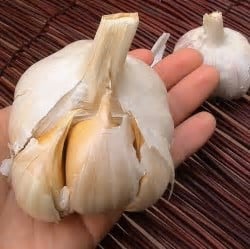 4 oz. glass jar of high quality garlic salt with a shaker lid
4 oz. DDF grown garlic powder and premium mountain rose organic pink salt. This is organically produced/organic bulb, DDF dried garlic perfectly mixed with delicious pink Himalayan salt.
This high quality garlic salt will not only add immense flavor and flare to your dishes, but garlic is also one of the most nutritious and beneficial foods on the planet. It is no coincidence that garlic has throughout history been known to ward off evil creatures such as vampires, because it also wards of a plethora of diseases! Plus, it is delicious!
Don't wait and get it on sale now while supplies last. Get it alone today on sale $7 or buy with our premium crushed or whole cayenne peppers, for only $12, on Small Business Saturday ONLY!!
If you want to give the gift of DDF products for the holiday's let me know and I will make this into a gift bag with any combination of products. Just send me the recipients information and any special instructions. :)
As always use code PICKUP17 at checkout for pre-arranged pick up or local delivery AND your product will arrive in a reusable 4 oz. glass jar!
FDA Disclaimer: These statements and products have not been evaluated by the FDA. They are not intended to diagnose, treat, cure, or prevent any disease or condition. If you have a health concern or condition, consult a physician. Always consult a medical doctor before modifying your diet, using any new product, drug, supplement, or doing any new exercises.