1/2 oz. certified organic ingredient Thieves oil in an amber glass dropper jar
$

38.00
On sale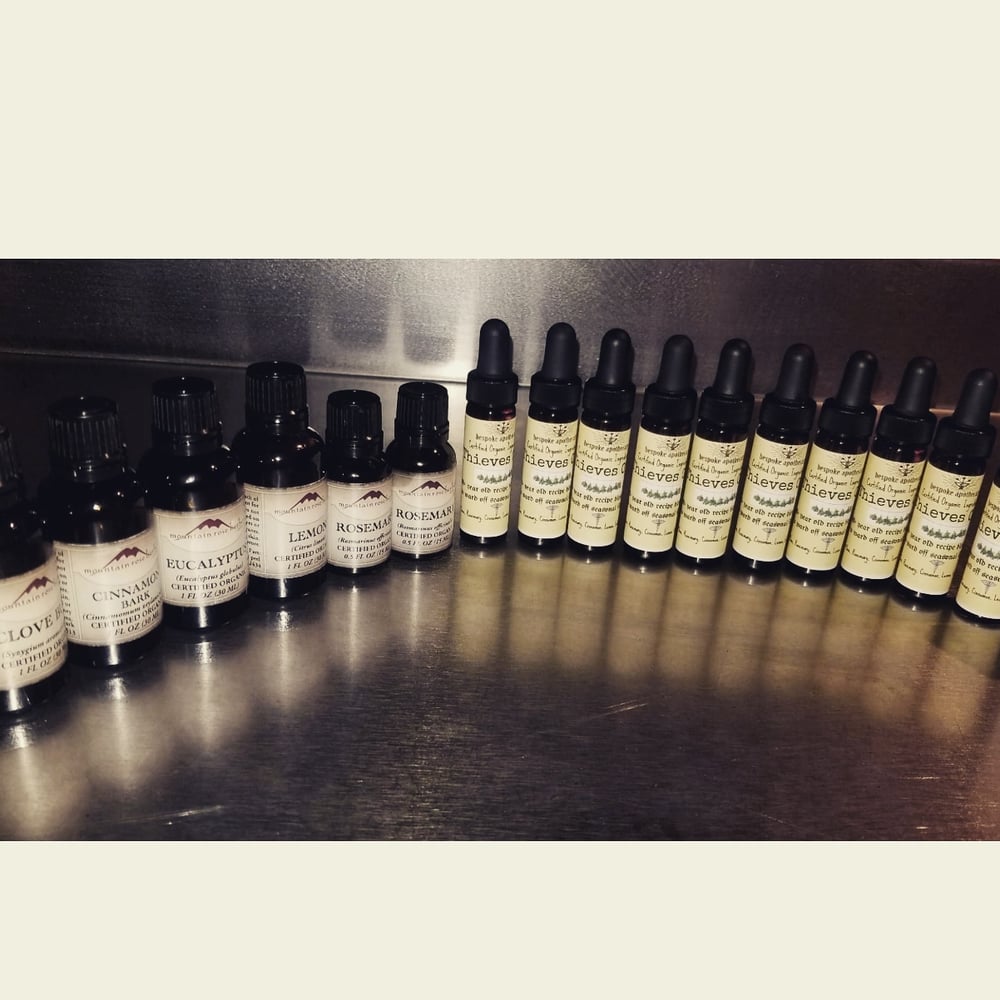 This magical immunity potion is based on a recipe that originated in the 15th century. According to legend, the concoction was created by a group of 4 thieves and grave robbers to protect themselves from contracting the bubonic plague while robbing the bodies of the ill and deceased. When apprehended, the thieves admitted to using the formula and disclosed the recipe in order to receive a less severe punishment for their crimes.
Whether or not this story is true, the essential oils in this blend may be beneficial during the winter months. Kills bacteria and viruses to help prevent sickness.
COMMON WAYS TO USE THIEVES OIL
To freshen the air in your home or workplace, add 2 to 3 drops of the essential oil blend to an essential oil diffuser or a pot of simmering water on the stove. Diffuse for approximately 20 to 30 minutes.
Make an all-purpose spray for cleaning your home or workplace. Fill a spray bottle with water and add the essential oil blend at a 1 to 2% dilution rate. Spray on countertops, desks, and other surfaces. Make sure to shake before using, as the oil and water will naturally separate.
Use a 1 to 2% dilution rate of the essential oil blend in a base of water or alcohol, and spray onto skin for relief of minor discomforts.
Mix the essential oil blend at a 1 to 2% dilution rate with organic jojoba or olive oil. Use as a massage oil for weary muscles and tired feet, or dab on skin throughout the day for general support.
To help clear up occasional stuffiness, mix a 1 to 2% dilution of the essential oil blend with organic jojoba or olive oil and rub under the nose or on the chest. Or, place 1 to 2 drops in a bowl of hot, steaming water and inhale the vapors under a towel. Another good application site is on the feet. Use our unscented Goode Lotion as a carrier! :)
For a limited time get a Thieves oil AND 4 oz. Goode Lotion for only $55!! Great holiday gift!
Mountain Rose Herbs certified organic ingredients:
Cinnamon Bark
Eucalyptus
Lemon
Clove
Rosemary
And as always if picking up from our lockbox on County Route 60 in Elmira, use code PICKUP for free shipping, at checkout! Make sure to press OK after you enter the code. Then, send us an email at deaddogfarmhoney@gmail.com and let us know the time and date you would like to pick up, and we will send you directions!!
Thanks!