8 oz . ALL NATURAL Thieves WITH silver disinfecting and deodorizing room spray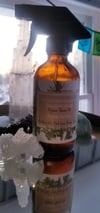 8 oz. Or now 16 oz. heavy duty glass stray bottle! OR get a refill!!
Disinfect naturally with our certified organic ingredient thieves oil - a proven antiseptic volatile oil collection- PLUS ionic silver! Ionic silver is a powerful topical anti-fungal, anti-biotic, anti-septic, anti-inflammatory, anti-microbial, anti-bacterial...anti-EVERYTHING!! :) Spray down everything from your furniture to your kids' coat! It's another line of defense to keep germs away!
Ingredients:
Distilled Water
Premium Polish Grain Alcohol
Ionic Silver
Certified Organic Ingredient Thieves oil blend
Witch Hazel
(OR made with Organic Lavender and Lemon oils)
And as always if picking up from our lockbox in Elmira,
(Located at approximately 1 Sullivan Crest Rd Elmira, NY between Sullivan Crest Rd and Log Haven Acres Rd. on County Route 60 off Jerusalem Hill Rd - You can't miss it!)
*Be sure to use code PICKUP to remove shipping charges, at checkout, and make sure to press OK after you enter the code.
Then, please send us an email at deaddogfarmhoney@gmail.com and let us know the time and date you would like to pick up, and we will send you the lockbox door code.
Please keep in mind that everything is made FRESH and in small batches so we will always need at least 24 hours notice for a lockbox order pick up, possible more if a weekend.
If having your order shipped, please allow 3 days to 1 week for delivery and you will receive notification when it ships.
Thanks for understanding, and thanks for your order! 😉♥️