*NEW* Thieves Oil Infusion ♡🌿💯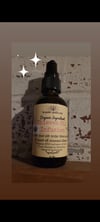 Herbal oil infusions are time-tested combinations providing an amazing array of beneficial actions.
The herb's phyto-medicinal properties are transferred to the oil for treatment of the skin and body.
Knowing this, and using this method daily to make our skincare products, we got to thinking about those grave robbers, the ones that Thieves oil is named after, from over 500 years ago. 
We wondered, did they really have a still to make volatile oils?  
Probably not. 
Did they make a tincture or an oil infusion?   Probably. 
This thought came to us when we did more research about the difference in plant chemical potency between oil infusions and volatile or essential oils. 
You see, volatile oils are mainly the aromatics or the scent of the herb/ flower. 
The lightest part of the plant, and obtained by using steam. 
When you infuse an oil over a long period of time you are capturing many oil soluble plant constituents. 
Arguably more than you ever could obtain by making an essential oil. 
And that is how our new Thieves Oil was born.
Organic Cinnamon, Rosemary, Lemon Peel, Eucalyptus + Clove individually infused in organic extra virgin olive oil. 
Ready to use, anywhere. 
Great for applying to feet, chest or sinuses when battling illness, good for hands + wrists to repel germs. 
You could even safely ingest it, though our tincture, coming soon, is a better option. ❤
SO, so many uses.
A true Thieves oil.
And now available online or in person.
♡🌿