NEW!! 100% Natural HERBAL Hand Sanitizer !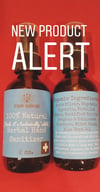 Cold and Flu season is in full effect!! Protect your family with the latest Bespoke creation!
We recommend washing hands with (organic) soap and water, first and foremost but this is a great alternative when out & about with the kiddos!
Like all of our products, a little goes a long way - so 1 pump for both hands works!
Also, just because you can eat it, doesn't mean you necessarily should. :) Just stressing the importance of safe ingredients on hands that are used to eat with on some occasions! ;)
Ingredients to help not only kill germs, but protect your hands. They will be left feeling soft and smelling fresh!
Organic Ingredients:
Ionic Silver (20 ppm)
Vegetable Glycerin
Distilled Water
Rectified Spirits
Oregano & Echinacea Tincture
Witch Hazel
Aloe Vera Gel
And as always if picking up from our lockbox in Elmira,
(Located at approximately 1 Sullivan Crest Rd Elmira, NY between Sullivan Crest Rd and Log Haven Acres Rd. on County Route 60 off Jerusalem Hill Rd - You can't miss it!)
*Be sure to use code PICKUP to remove shipping charges, at checkout, and make sure to press OK after you enter the code.
Then, please send us an email at deaddogfarmhoney@gmail.com and let us know the time and date you would like to pick up, and we will send you the lockbox door code.
Please keep in mind that everything is made FRESH and in small batches so we will always need at least 24 hours notice for a lockbox order pick up, possible more if a weekend.
If having your order shipped, please allow 3 days to 1 week for delivery and you will receive notification when it ships.
Thanks for understanding, and thanks for your order!