Acne Treatment SUPER kit ON SALE!
$

15.00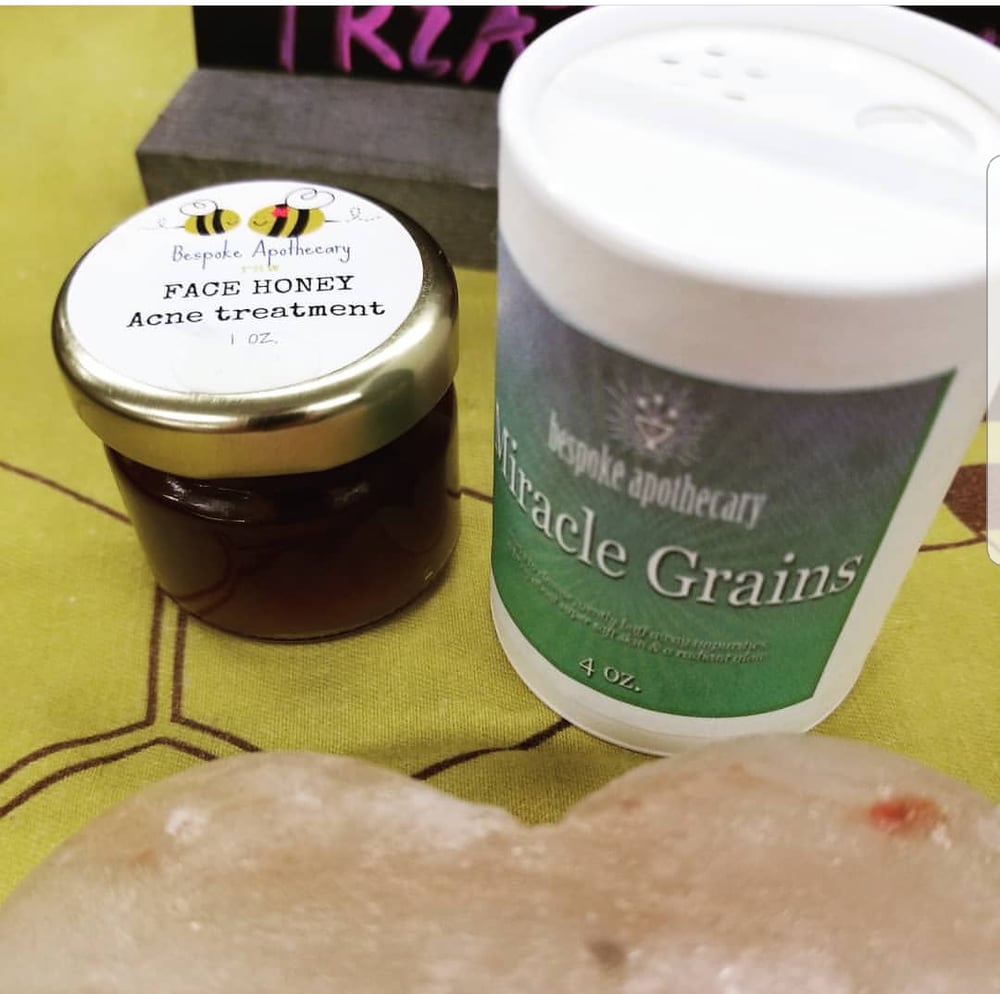 Acne Spot Treatment Kit!
What you get:
1 - 2 oz. Miracle Grains
1 - 1.5 oz. Face Honey (Raw, organically produced HONEY!
Directions for use:
Mix the miracle grains with our honey in your clean hand and make an amazing mask for acne prone skin. Leave on for 15 minutes and remove in the shower (hot cloth if not shower) for best results. So many combinations are possible!
Use the honey as a pimple spot treatment. FOR REAL! Don't knock it til you try this overnight!
Miracle grains is the most versatile skin care products!
This proprietary recipe includes:
*ALL ORGANIC: (in order of quantity) ***We either grow it or source it out from Mountain Rose Herbs
(Finely ground and hand sifted)
White Clay
Ground Oats
Ground Almonds
Ground Lavender
Ground Poppy Seeds
Ground Roses
Baking Soda
YL Lavender and Roman Chamomile EO
This blend works to cleanse, gently buff away impurities and bring about super soft skin and a radiant glow. Especially when paired with green tea serum during the day and perfect skin cream at night. This product is great for all skin types including aging and acne. Use with water, a mask, with our calendula jojoba, our honey face wash, or with any favorite organic/natural face wash. Add in your favorite essential oils. You can even add in DDF honey straight (GREAT detoxifier and draws out impurities) OR add to rosewater and use as a super exfoliating astringent! Such an earthy, versatile way to naturally cleanse your face. This is a fabulous base to any skin cleansing regime!
Mix the honey with the miracle grains for an amazing detoxifying and revitalizing mask! And remember...not all honey is the same. DDF honey is filled with the essences of organic medicinal herbs, fruits and vegetables ... never treated with chemicals in any way and our bees are shown much appreciation and love. ❤
Use code PICKUP17 at checkout for prearranged pick up or delivery